ARTYKUŁ W JĘZYKU POLSKIM
We live on the southern tip of the Iberian Peninsula, but from time to time, we travel to Poland and visit places we traveled to as we were children...
... Once upon a time :) My family and I spent vacations at the Łęg Campground by the Białka River for some years. We made campfires, admired nature, hiked in the mountains, and ate natural, freshly smoked oscypek, a Polish cheese from the Podhale region.

Every morning a local old lady knocked on the walls of our Esmeralda's German trailer delivering fresh milk - natural milk, offering a bucket of berries or mushrooms... How not to miss such an idyll :)

I was curious about what and how things had changed... so in 2020, we visited the area. I read something on the web, but reading and checking with your own eyes are two different things. To my surprise and joy, it turned out that not much had changed :) The name, the reception building, the surroundings... It's still a semi-wild camping ground where you can light a campfire on the riverbank. This place can be noisy during the weekends, especially in the summertime, but you can find your space and feel comfy and safe.
I will not describe the sanitary facilities because we did not use them.
The Białka River is one of my favorites: white rounded stones, rapid current, and purity. I like the water's hum, this time heard from the bed in my camper ... History somehow repeats itself; my parent passed the travel passion to me, and further, we pass it to our little one ... BTW, our dog enjoys it too... :D
Thank You...
PS The camping site's location is beautiful - close to the Pieniny Spiskie Mountains (the highest peak is Żar Mountain - 879m), and there are three National Parks in the area - Pieniny, Gorce, and Tatra Mountains.
The campground's official website CLICK

Un Saludo:)!
Back
---
Related articles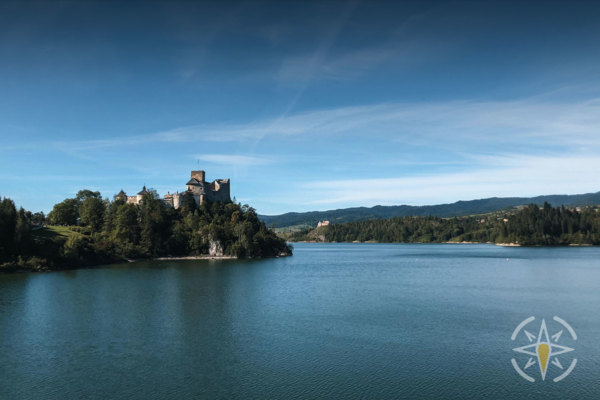 Discover Poland by Campervan - Camping Frydman, Czorsztyn Lake
Velo Dunajec bike trail, and the castles in Nidzica and Czorsztyn are some of the charms of this area
Read more