ARTYKUŁ W JĘZYKU POLSKIM
I really like to search for unique home decorations, those with a soul that make the interior feel cozy... It's just a fancy of a housewife who likes when something sparkles on the shelf and doesn't necessarily come from the hands of Chinese designers, and since Morocco is just around the corner, the selection of original trinkets is quite extensive.

Now I devote significantly less time to looking for exotic finds because what was supposed to appear here and there in my home has already settled in and taken up the free place. In Spain, I mostly use the Wallapop, Facebook Marketplace, and Milanuncios apps. And it's not even about the objects themselves, but about those situations when I meet someone who is waiting for me with a spotted treasure and tells its story...
The Clock - I arranged to meet with a Moroccan guy with whom I had previously chatted in Spanish, under a shop in Benalmadena. He was a bit late and at first, he started apologizing for it, mixing Spanish with English. He explained that his car broke down and that he was here alone and had no one to ask for help to give him a ride, so he rushed on foot, but he has a beautiful handmade Moroccan clock for me. He pulled out a wooden disk from a disposable bag, I don't know if it was hand-cut... maybe it's some kind of cheap trinket that lies around on the walls somewhere in Marrakech, but I like this African kitsch at a good price, so after checking the mechanism and exchanging pleasantries, I rush home, drill a hole in the wall, and hang it up... another trinket for my collection...



Mexican dresser - It caught my eye immediately... I was looking for real wood, not IKEA particle board, and here it is! It fits the designated place in terms of dimensions, and the price is 50 euros - I take it! Of course, there were small talks on the spot, like where are you from and what's up, how do you like it... In return, I hear that the owners of the dresser moved from northern Spain to Andalusia because it's nice and warm here, and that part of their family still lives here... unfortunately, work problems are pushing them back to the Basque Country, so they're selling what they can...

Another dresser - The Spanish guy decided that it's old wood and he doesn't like the style anymore... For me, it's a bomb! He helped us cram the heavy drawers into the car and here it is! It pleases the eye and serves beautifully!

The Lamp - I was looking for something original, somewhere for a corner. I arranged to meet with a Spanish woman from Granada for pickup and we stood there for almost an hour. I listened to the story of how the lamp, made by a local artist, passed from hand to hand in the family, changing ceilings in Granada, and eventually, due to its emotional value, ended up with the owner in Benalmadena. Unfortunately, once again Karolina (because that's what her name was) had to change her place of residence, but she didn't want to leave the lamp in a random apartment, so she decided to sell it to someone who liked it... I was moved by her attachment to these few pieces of glass and I was afraid that she would ask for a monthly photo report to see if the lamp was doing well on my ceiling... ;) It hangs there, Aladdin doesn't live in it, but who knows...




Middle Eastern table - Living in Malaga, I took the metro to the La Luz district to pick up a small table with my baby in a stroller. A woman in a burqa with a table in a flimsy net came to meet me and collected 20 euros with the help of a few men who looked at me unfriendly. The exchange was quick, this time without any kindness or stories, or even a micro-smile on the corner of the mouth... Unlike the next Moroccan woman...

Brass plates - for a couple of euros, Zahara (that was the name of the seller) displayed decorative plates, and since I liked them and already saw them hanging on the wall in my imagination, I went to pick them up... Malaga, around 3 pm, middle of summer, my bike tires began to melt... hot siesta, I'm waiting... And suddenly I notice the happiest woman in the world, smiling at me from afar, waving... :) She took out the plates from her bag and off we went... I felt like I was at a Zepter cookware show - she told me where she got them, why she was selling them, showed me how they shine in the sun, how to hang them, how to clean them, how not to do it, and why they are so cool, and that I would regret it if I didn't buy them... It took us about 20 minutes to talk about the 3 plates for 10 euros... I like those brass circles that are always dull, for that energy and smile that Zahara left on my wall.

I won't bore you with more stories about how I became the owner of original wooden sculptures for 15 euros or other interesting encounters. Sometimes I spot some trinkets, but rarely...
Nonetheless, I really enjoy visiting flea markets. One of the largest takes place every Saturday in Fuengirola. You can find everything there... The number of stalls and items presented on them is impressive. Decorations, completely unnecessary knick-knacks, antiques, hippies, Mary figurines of everything, some even glow in the dark, Jesus on colorful crosses mixed with figures of Supermen...
My boys go there for analog records, and there are real Andalusian pearls, old flamenco like Paco de Lucia, Camaron, and other classics. I like Moroccan trinkets, old books, photo albums, paintings, drawings, you won't find such things in shops, no chance...
If you're interested in such places, check when similar markets take place in your town. The range of products can be surprising, because even if you don't care about something, freshly picked fruit bought from a loudly advertising trader might taste great. Recently, I had the opportunity to visit a flea market in Tavira (Portugal).
I was mesmerized by a ceramic doll, not because I wanted to buy it, it just caught my eye... Such a gaze means an opportunity for the seller to talk and who knows... maybe bargain... He told me his story... that he wants to open a packaging museum in Lisbon but doesn't have the money for it, even though he has a space, but he's afraid of burglary because he can't afford to protect the packaging he's collected throughout his life.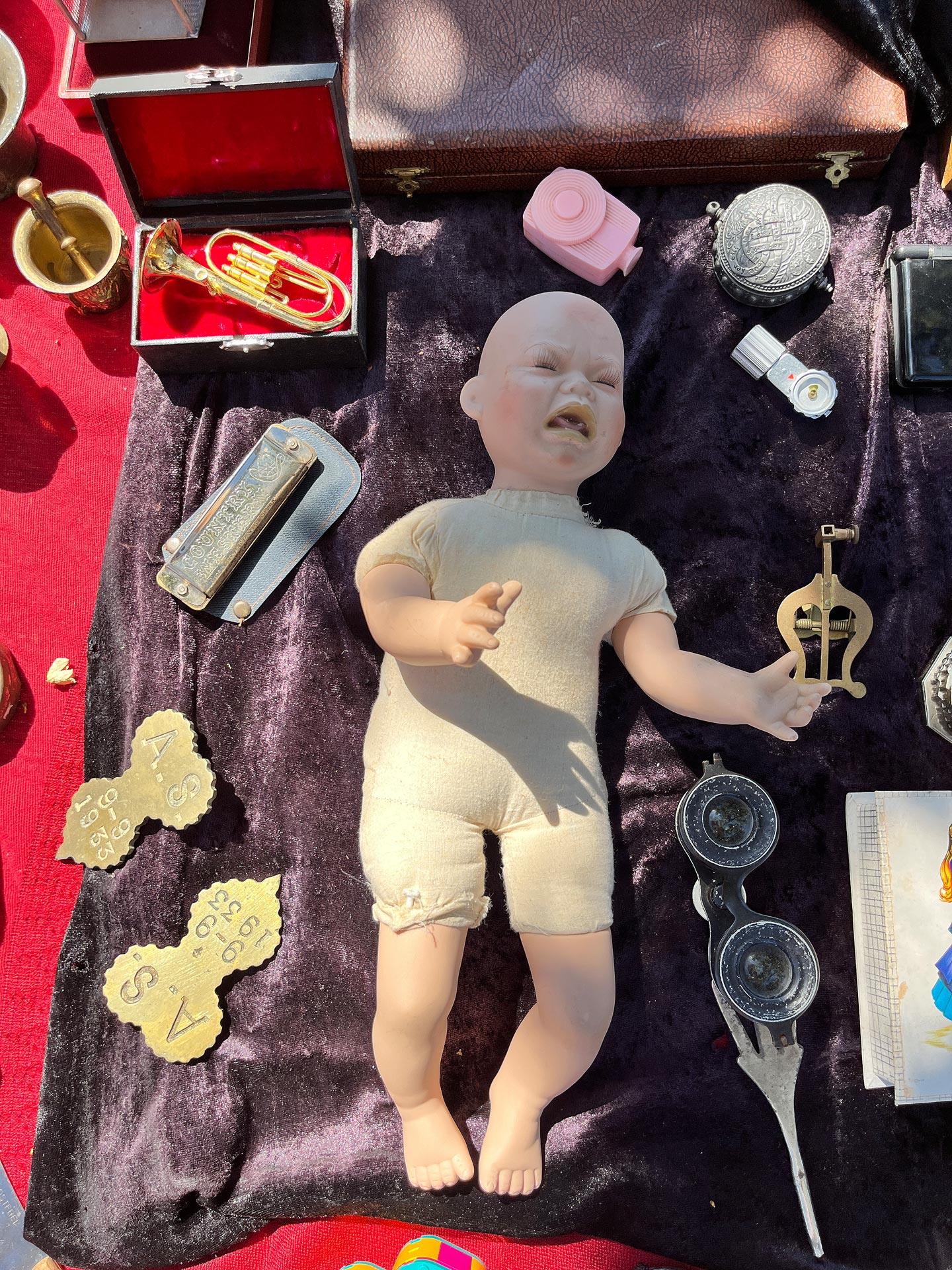 That's why I like such places, you can always listen to interesting facts, people's stories and find out why Mr. Box Lover likes to visit Algarve even though he lives in Lisbon...
I like secondhand stores and the stories behind objects... I don't smile when I see Ikea furniture... but I'm happy when visiting friends appreciate the originality of my treasures, from which, they say you can feel positive energy... :)
Un Saludo:)!
Back
---
Related articles