ARTYKUŁ W JĘZYKU POLSKIM
In the heart of the sunny Costa del Sol, not far from the city of Málaga, there is a charming town that should be on your travel list. Mijas Pueblo is a jewel of the region, where authenticity meets picturesque landscapes and tradition mixes with modernity. From your first step through the narrow streets of this charming place, you will feel a unique atmosphere that constantly delights visitors.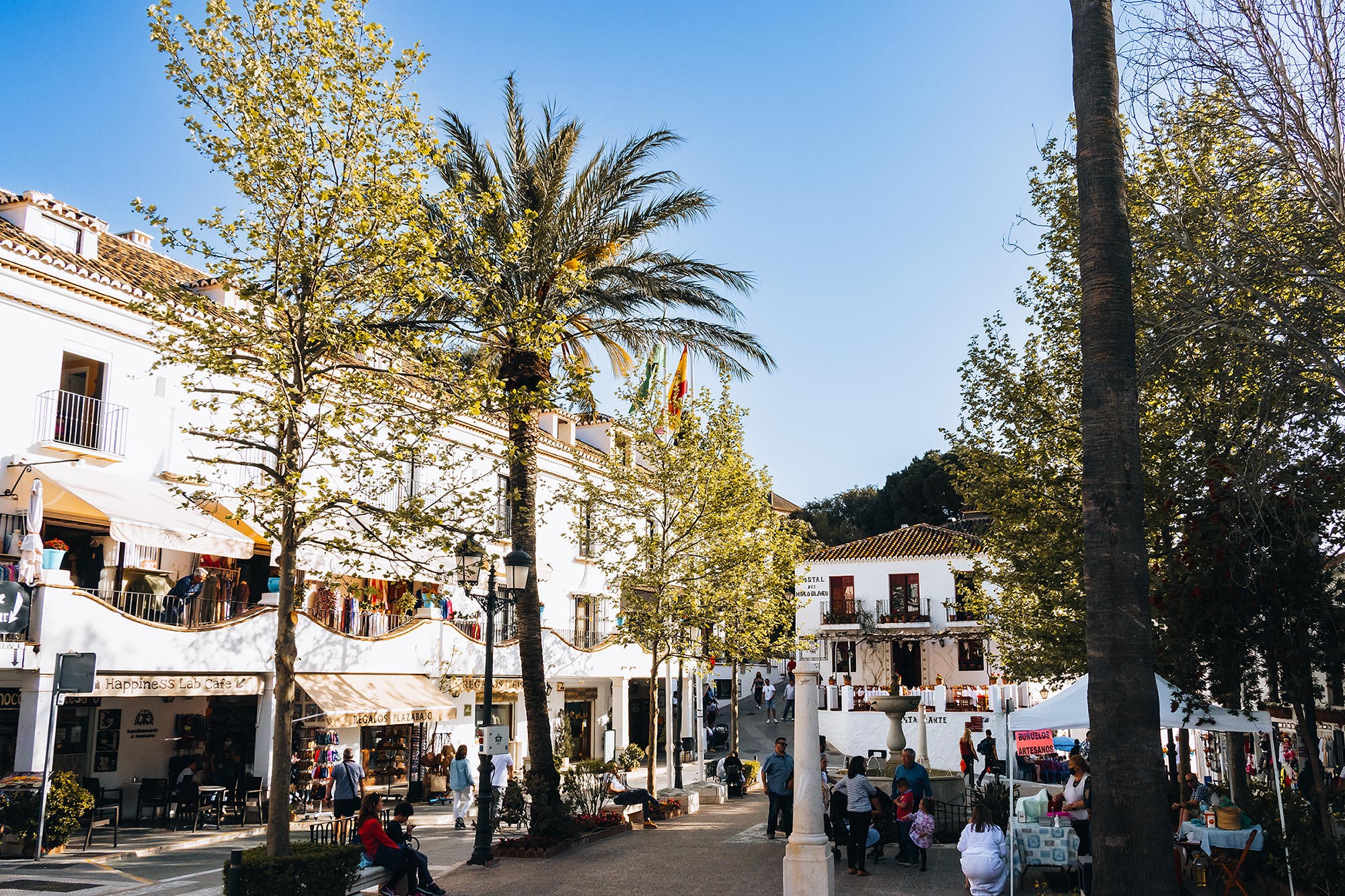 What to See - Main Attractions of Mijas Pueblo
Plaza de la Constitución - Your journey in Mijas Pueblo should begin in the heart of the town, at the main square surrounded by white houses. Here, you'll find numerous cafes, restaurants, and souvenir shops

Ermita de la Virgen de la Peña - This picturesque chapel nestled into the rocks is one of the most distinctive landmarks of Mijas Pueblo




Plaza de Toros - The bullring is located at the highest point of the town. If you're interested in Spanish culture, it's worth a visit. Tickets can be purchased at the entrance. Although, I personally prefer this idea for a corrida:





Mijas Museum - The photo above was taken in this small town museum. There you can delve into the history of the region and the traditions of its inhabitants over the centuries.

Calle San Sebastián - While strolling along a charming street, you'll discover local crafts, art galleries, and plenty of pleasant places to try traditional delicacies.

Jardin Botanico - La Muralla - A botanical garden with a playground located next to the bullring in the upper part of the town

From the town center, you can spot a small chapel perched on the hillside - Ermita del Calvario. You can take a challenging hike in the summer heat to get an even higher vantage point to admire both: Mijas Pueblo and the panoramic view of the coast.


Burro Taxis in Mijas Pueblo
The town is famous for its donkey taxis, which are an integral part of Mijas' history and culture. Donkeys used to serve as a traditional means of transport and have now become a popular tourist attraction. Although they may look beautifully decorated with colorful bells and pom-poms, unfortunately, their owners often remain deaf to requests for better treatment.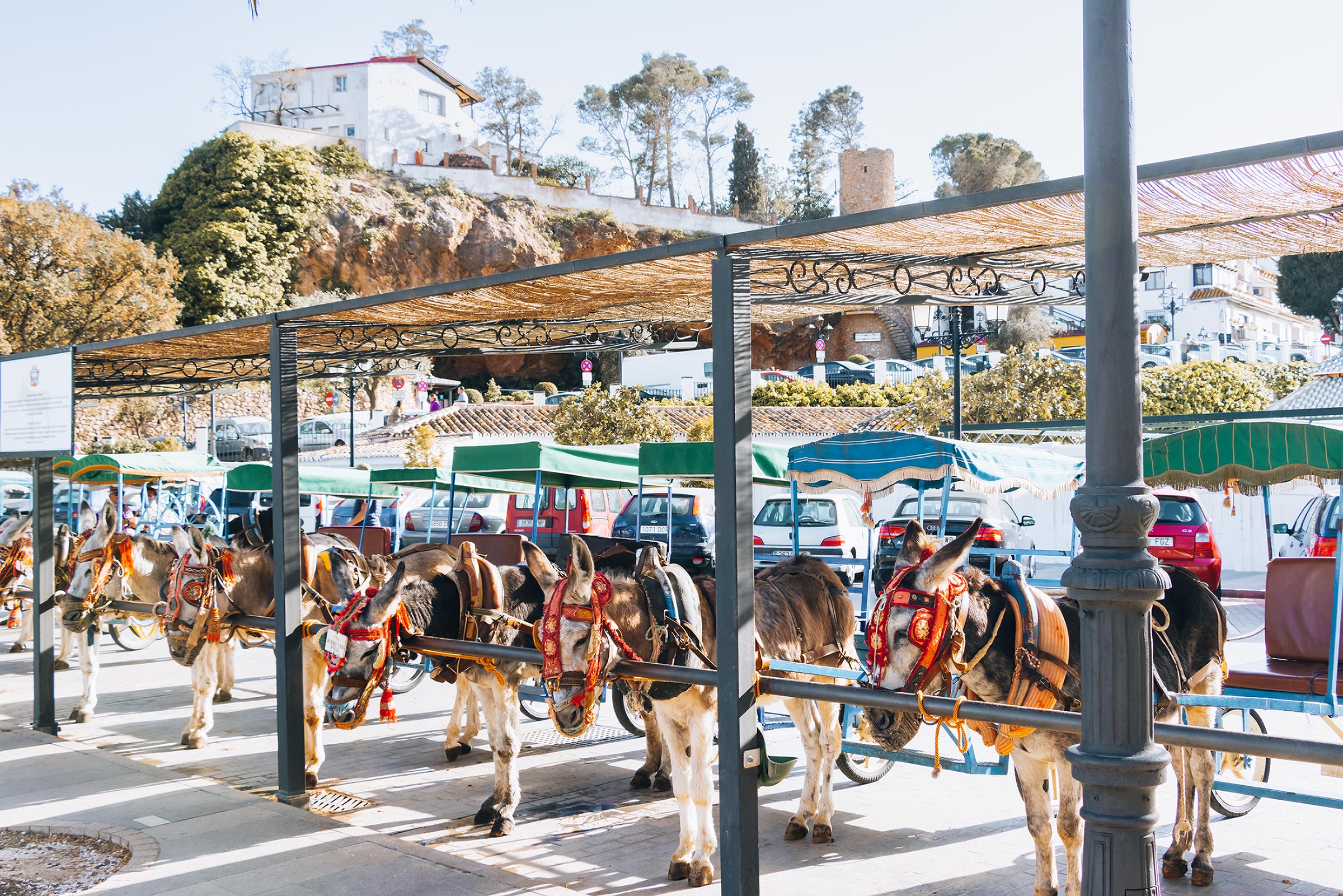 In reality, animals are tethered on short ropes in the heat, forced to remain motionless for long periods of time and to carry loads that are sometimes beyond their capabilities. Unfortunately, some experience mistreatment, enduring kicks and pushes, and are forced to provide rides to tourists in extreme temperatures. Despite their refusal to comply, they are often subjected to violence in order to regain control.
It is crucial to highlight these issues and raise awareness of the need to improve the care and welfare of these animals. Concerned individuals and organizations making efforts for better treatment, calling for responsible tourism practices.
I hope that by bringing light to this issue, I can encourage both visitors and residents of CdS to pay attention to the conditions these donkeys face and to support initiatives that promote their welfare.

Where to Eat in Mijas Pueblo
The city offers a wide selection of cozy restaurants and cafés where you can enjoy traditional Andalusian cuisine. Some recommended tapas bars are Oscar's Tapas Bar and Alboka Gastro.

Souvenirs from Andalusia
If you are looking for souvenirs while on holiday and plan to visit a pueblo, I highly recommend getting your Andalusian souvenirs right there. The streets are full of shops offering beautiful, original art ceramics and handcrafts that are not easy to find in the seaside resorts. There are several charming shops along Malaga Street.

Getting There
If you're heading to Mijas Pueblo in the evening or on a weekend, especially during the peak season, finding a parking place can be a challenge. Mijas Parking is a good option, where you can take an elevator directly to the square with the iconic donkey statue I mentioned earlier.
If you travel by camper, there is a more comfortable parking area near Mirador Juan Antonio Gómez Alarcon.
I recommend taking the A-387 road for its breathtaking views. This scenic route twists along the Mijas Mountains, where I've had the opportunity to take several nice hikes.
You can read about one of them Here - a great trail!
How to Get There
You can reach Mijas Pueblo by taking the M-122 bus from Fuengirola. The timetable can be found CLICK HERE.

Un Saludo:)!
Tags
Back
---
Related articles