ARTYKUŁ W JĘZYKU POLSKIM
The famous Spanish bull is called El Toro de Osborne, which means Osborne's Bull. At first, its role was solely promotional, but after some time it became the national symbol of Spain. The Spanish proudly say: "El toro de Osborne, el toro de Espana", which means "This is Osborne's Bull, the Spanish bull".
Who was Osborne?
The name originates from one of the most important family vineyards of Spain – Bodegas Osborne. The history of the company has started when the founder of the vineyard, Thomas Osborne Mann, arrived in Cadiz to export sherry. With time, he established various trade relationships and, in 1772, he founded a vineyard in El Puerto de Santa Maria. It has been prospering for over 240 years, making it one of 100 oldest companies in the world.
In 1956, the Osborne group decided to change its image and hired Azor advertising agency to design the symbol promoting their brand. The person who designed the bull was the highly talented studio manager and graphic designer, Manolo Prieto. His idea of "the bull next to the road" was to meet with general disdain.
However, the project was moved from the planning phase to production. In 1957, in Cabanillas de la Sierra, they placed the first bull next to the road from Burgos to Madrid. At first, the bulls were made of wood, but the meteorological conditions forced the constructors to use steel boards. Every bull weighted 4 tonnes and was 14 m tall.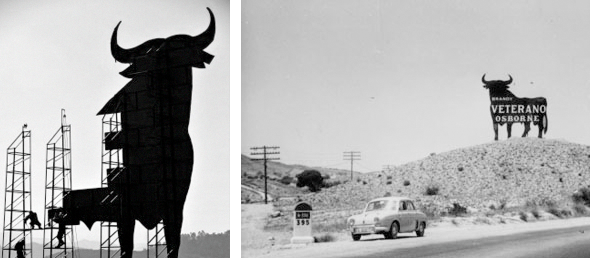 In the next few years, around 500 bulls were placed on the whole Iberian Peninsula. Now, there is only 90 of them due to the road traffic regulations, which in 1988 did not allow to place advertisements closer than 150 m to the road surface. Therefore, the next few years the vineyard's directors spent arguing with the officials over keeping their brand mark near roads.
In 1994, another road traffic regulation was introduced and it meets with a firm opposition in a form of a joint effort of city boards and autonomic communities, called "Salvemons al toro" – "Let's protect the bull". They postulated to change them into a cultural property. As a result, in 1997, the Supreme Court confirmed the non-commercial character of the bulls, which have served as symbols of strength and masculinity for many artistic endeavors and projects, and, surely, we can find them in souvenir shops all over Spain.
In Andalusia, we can spot 22 bulls!
If you are near Cadiz, you absolutely should visit Osborne's vineyards!
Un Saludo:)!
Back
---
Related articles