ARTYKUŁ W JĘZYKU POLSKIM
The majority of Huelva territory is woodland inhabited by a variety of wild animals, including protected Iberian lynx, black stork, deer, boar and roe deer. Vast and calm territories of Parque Natural de Sierra de Aracena y Picos de Aroche attract tourists eager for wildlife. Multiple meadows serve as the main source of food for kept Iberian pigs, feasting on acorns from evergreen and cork oaks. There, the maturing ham Jamon de Huelva, acknowledged by gourmets from all over the world, is made.
Huelva, both the city and the nineteenth century province, is connected to one of the most important events in the world's history. In a XIV century Francician monastery - La Rabida, Christopher Columbus and Pinzon brothers were making plans for their first trip overseas…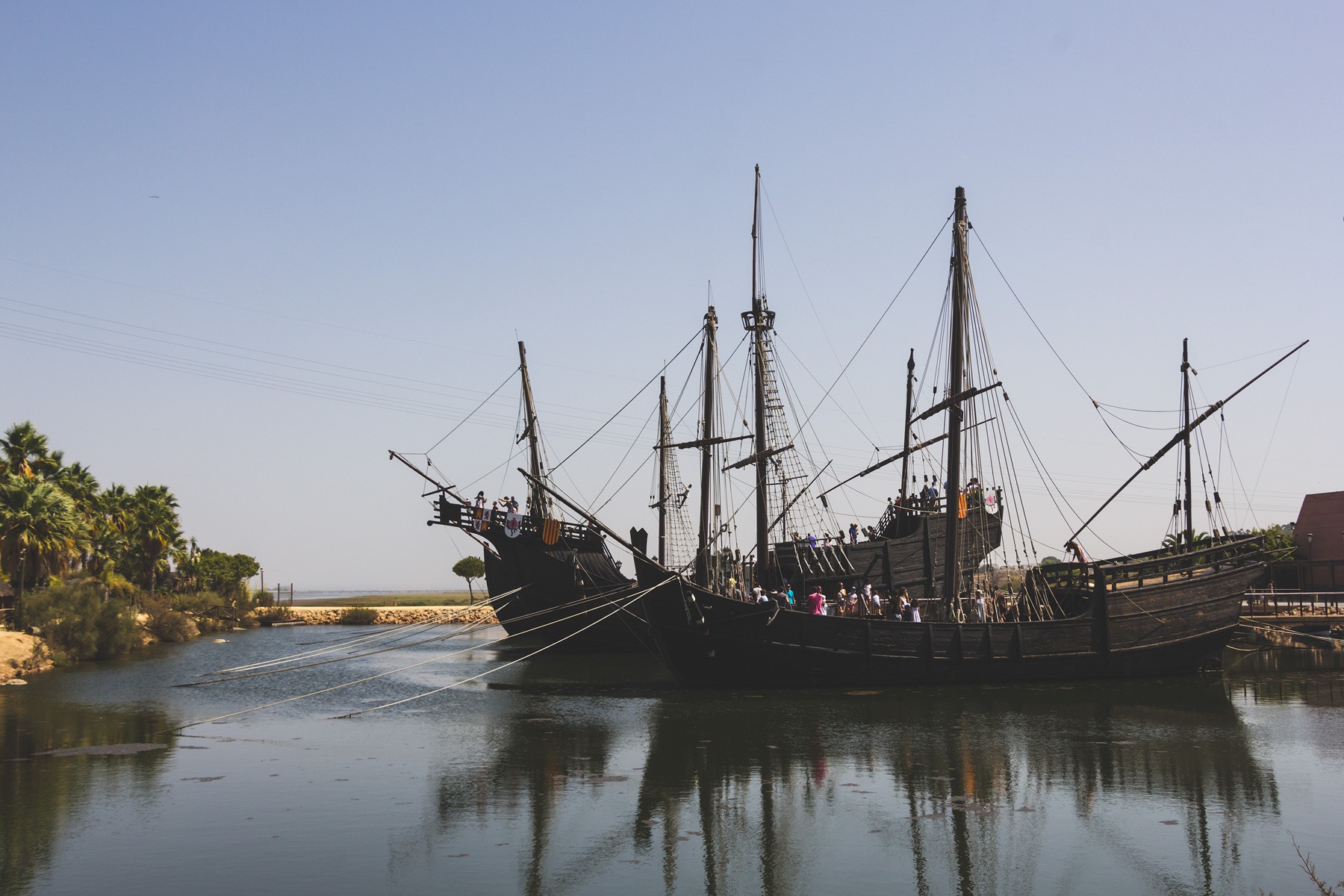 As a result, on August 3, 1486, from Palos de la Frontera, three Spanish caravels: Santa Maria, Pinta and Nina embarked on their first transatlantic journey…
A bit of history

The development of Huelva province has started in the ancient times as a part of ancient development centre operation covering the southern part of Andalusia, known as Tartessos. It was founded in late 2000s BC, and its inhabitants were well-versed in extraction of metal deposit, maintaining business relations with Greece, Phoenicia and Carthage. A fun fact: the peak of its cultural florescence occurred in 750 – 600 BC, when the locals learned to write. However, unfortunately, contemporary archaeologists are unable to decipher their writings. The civilisation finally collapsed in sixth century, but the enthusiasts of the topic, such as Adolf Schulten, a German archaeologist and historian, believe that Tartessos is the mythic Atlantis…
Appreciating the advantages of the coastal localization of Huelva – between the rivers Odiel and Tinto, and valuable metal deposits hidden near – Phoenician tradesmen, in eighth century, founded one of the oldest cities of the western Europe, known then as Onuba. The economy of loose Phoenician settlements, such as Onuba, Gadir (Cadiz) and later Malaga, was mainly based on extraction and trade of such metals as gold, copper, silver, lead and tin, abundantly present on Andalusia territory at that time. In seventh and sixth century, Phoenician cities had been formed as a part of Carthaginian politics, into a strong country with established trade position in the Mediterranean Basin. The next important moment in its history is the takeover of the attractive local area by the Romans. The local community, living mainly in coalmining regions near Sierra Morena mountains, was strongly against it. The Roman reign over the peninsula did not influence much the region of today's Huelva. It was mostly focused on deposit extraction, farming, fishing and goods trade, which is indicated by discovered roads and a beautifully preserved Puente romano de Niebla bridge, situated in the most prospering region of Niebla territory.

After Romans, Visigoths came to the peninsula and later, in 713, Moors came to Niebla. Of course, they took interest in Onuba, changing its name into today's Huelva and building the city up, basing on Roman structures. After the fall of Al Andalus, Huelva and Niebla became the capitals of separate taifas. After XII century Reconquista and after the king of Leon's, Alfonso X's, takeover of the city, they started building defensive walls and fortifications, which were supposed to stop the expansive politics of Portugal.
The Gold Age of great geographical discoveries brought Huelva and its citizens a great fame and pride. The harbour and the structure of the city began to develop rapidly. However, starting from the sixteenth century, due to the lack of profits for Cadiz and Seville, epidemics, pirate attacks and a war against Portugal, the city gradually went into decline. On November 1st, 1755, in Lisbon Bay, there was a strong earthquake measured 8.5 on the Richter scale, which almost completely destroyed Huelva. The city was quickly rebuilt and in the next decades, it became a well-developing fishing and trade centre. Currently, the economy of the city is mainly focused on two basic pillars: industry (chemical, harbour and shipyard) together with fishery, and the service sector as a capital of the province. We cannot forget about the fact that the city is also an important tourist centre, Costa del Luz – the sun coast. It is only 45 km away from Seville, kilometres of beautiful beaches and an amazing wildlife sanctuary – Donana Park.
Following Columbus' footsteps – what to see in the city?
Because of the aforementioned destructive earthquake and a rapid industrialization of the city, you will not find many monuments there. However, there are places that will let you experience something exciting.

The Christopher Columbus Monument – it couldn't be absent in Huelva.
Palacio de Congresos Casa Colon – finished in 1883, one of the most characteristic buildings in the city. Important events are held there.
Plaza de Las Monjas – situated at the heart of Huelva.
Muelle del Tinto – this characteristic pier used to be commercial in the past. It was built at the beginning of the twentieth century on Odiel river.
Catedral de la Merced – a colonial cathedral of Huelva. In the seventeenth century, it was a part of La Merced monastery.
The province museum, Museo Provincial de Huelva – for the interested, there are, among others, Roman memorabilia exhibitions and presentations of Rio Tinto mine history.
El Conquero – a vantage spot next to the mouth of Odiel river.

Attractions located near the city
La Rabida Monastery together with Museo Muelle de las Carabelas – when we started planning our trip to Huelva, I knew we had to see THIS MUSEUM. In a place in which rivers Tinto and Odiel meet, there is La Rabida, which Columbus' caravels were anchored to for a year ( 1491 – 92), in the period of waiting for financial support from Catholic monarchs, Ferdinand and Isabell. Now, there is also a monastery with a fourteenth century gothic Church with mudejar elements, in which the remains of Martin Alonso Pinzon, who swam together with Columbus on one of his ships, are buried.

Museo Muelle de las Carabeles – we can see there replicas of famous caravels – an amazing history lesson!

Parque Nacional de Donana – a note-worthy trip destination for nature lovers, but... the possibilities to explore the park are very limited due to strict wildlife conservation. You can buy a trip in one of a few available sports located around the part, El Acebuche – CLICK HERE to see the open hours and booking options. Be under no illusion – Iberian lynxes, deer, roe deer and flamingos will not parade posing for photos in front of a roaring off-road cars. But maybe, you will get a chance to see one of the inhabitants of these territories. It is recommended to take binoculars. Because of the fact that you are going to be travelling with a dog, I learnt that, unfortunately, pets cannot participate in the trip and need to stay outside the park. Another starting point, from which you can begin the trip around the Donana park, is El Rocio CLICK HERE. You can find all information on the website.

Castillo de Niebla – I have mentioned Niebla before – there are many things left there from previous epochs. The castle used to be a Roman fortress and, after that, a Moorish fortress. More information can be found HERE. While visiting Niebla, it is good to take a note of Rio Tinto – a red river…

Isla Cristina – you can participate in the biggest fish auction in Andalusia there. When it comes to the tonnage – only Cadiz is better. In the hall, you can see what buying and the process of distribution of fresh fish around the peninsula look like.

Parque Minero de Rio Tinto – an old mine park of the red river. It provides moony, or rather Martian, views.

Rio Guardiana – a natural border between Spain and Portugal, the fourth largest river of the peninsula. Near it, you can take a route to see the great variety of bird species living there.
A time for a break – where to eat?
Huelva's cuisine is a combination of products from mountain and sea regions. It is really varied due to the mix of cultures which lived there, as well as the closeness to Portugal. One of the most famous hams El Jamon de Huelva – is produced near Sierra de Aracena, a beautiful part of the province.

Below, there are some restaurants recommended by the locals:
In Huelva:
• Azabache
• Bar Taberna Er Chiclanero
• Bar Pappis
• Bar Taperia Entre Amigos
• Acanthum
Near Huelva:
• La Fabrica w Minas de Riotinto
• Meson El Gato w Isla Cristina
• Mesón El Lobito w Moguer
• Aires de Doñana w El Rocío
How to get there?
The nearest airports are:
Seville airport – 113 km from Huelva
Faro (Portugal) airport – 112 km from Huelva
Huelva has well-developed public communication: maps and departure hours CLICK HERE
Maybe, you will find a map with the most important attractions highlighted, useful:

Un Saludo:)!
Back
---
Related articles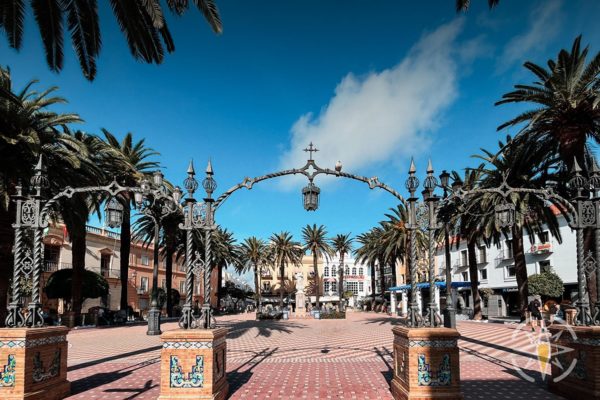 Ayamonte- a small town on the very end of Andalusia
The city is located on the Guadiana river shore - the natural border between Spain and Portugal
Read more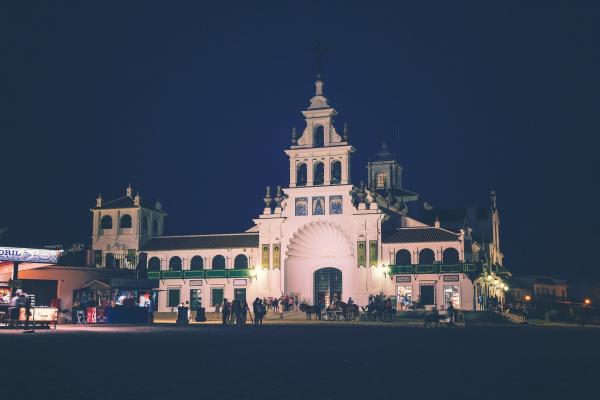 EL ROCIO
A trip to the real "Wild West" of Andalusia
Read more