ARTYKUŁ W JĘZYKU POLSKIM
The name of the city and the province originated from the Arabic word Al-Mariyah which means a mirror of the sea. It was given by Spanish caliphs who, taking advantage of an eastern situation of the sunniest and driest Andalusian province, turned it into a trade gate to Maghreb and Easter countries – a cosmopolitan city humming with trade. From there, ships carried silk, cotton, glitter, and other goods of the contemporary world. Almeria was an especially important harbor not only because of the trade but also because of the contemporary world's strongest and largest fleets situated there. In 995, the development of shipbuilding techniques inspired the first caliph of Spain to give the order to build a shipyard. 500 years later, it resulted in advanced engineering used to build solid caravels, which were employed, i.e., by Christopher Columbus, for travels across the seas. Another important decision of 995 was moving the capital of the province from Pechina to Almeria and the construction of the La Alcazaba fortress. It was situated in the central part of the city, on a hill (today, Saint Christopher's). Towering over the city, it serves as a stately historic relic. During its glory days, it impressed with its 25 000 square meters area, and it used to be the strongest Arab fortress in Spain.

While being on the Saint Christopher's hill, you can go to Mirador del Cerro de San Cristobal – the highest overlook allowing you to contemplate the panorama of the city and the view of local mountain ranges.
Over the next centuries, America – just like other regions of Andalusia – was constantly under pirate attacks. Additionally, strong Christian influences drove Arabic culture away from the region by destroying monuments and turning mosques into churches. Finally, in 1489, Catholic kings changed the character of Alcazaba by destroying Arab cultural centers in order to, in 1554, start the construction of a large cathedral.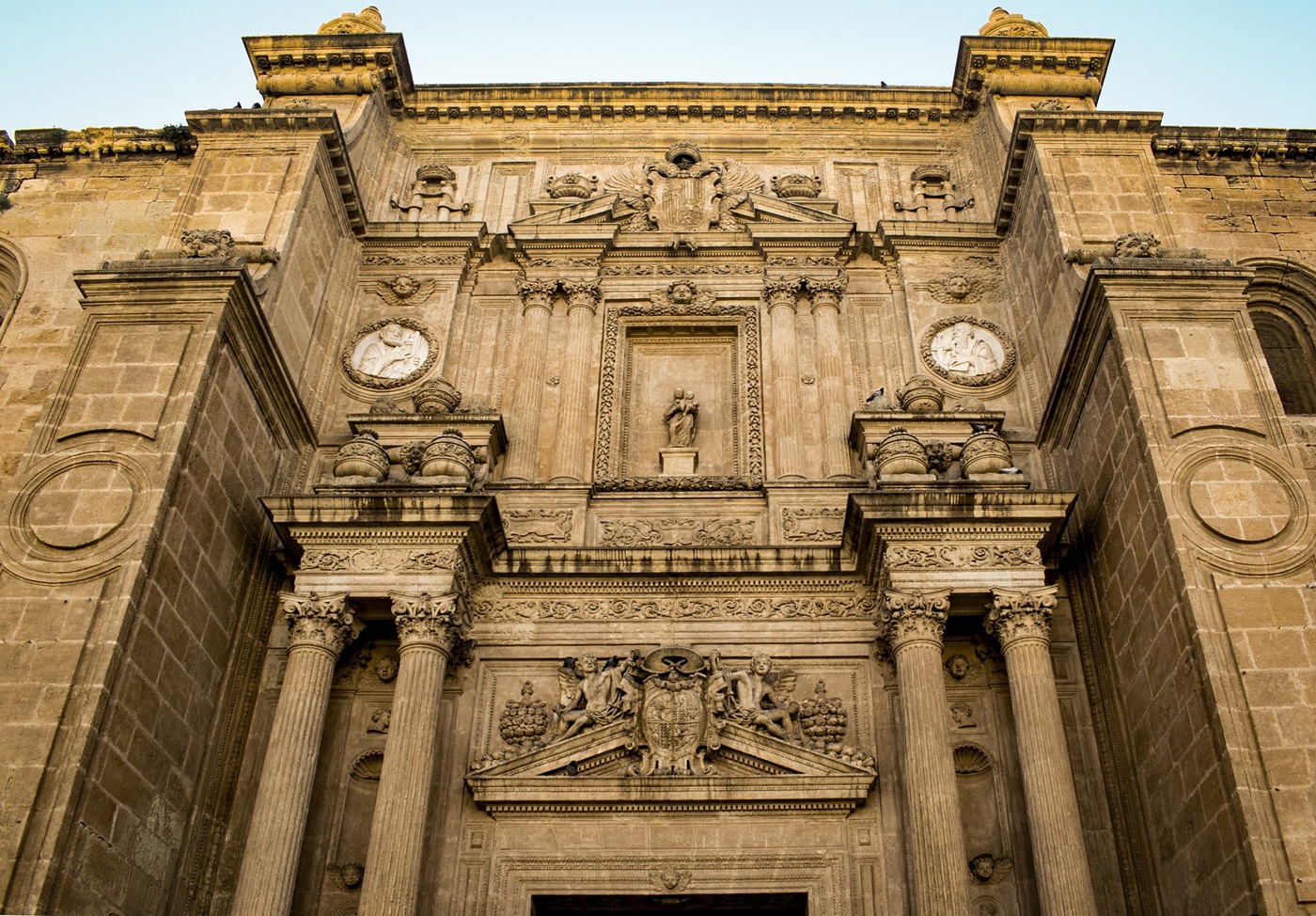 The city was rapidly developing up to 1658 when a powerful earthquake turned the whole region to rubble – all that was left were ruins and around 500 people!
Only in the nineteenth century, after taking into account iron ore trade, once again, a decision to modernize the waterfront and revive the harbour operation was made. Today, it is divided into three main parts: commercial – from which you can take a ferry to Africa and European harbours; piscatorial and sports – together with a beach and El Cable Ingles construction – the iron ore loading ramp.
If you are in Puerto y Parque Nicolas Salmeron, you should go to the pier to look at the city from the sea perspective.
In 1895, due to the development of sea trade, Estacion del Ferrocarril railway was built. It is an excellent example of iron architecture. The name comes from the technique often used to erect utility buildings. Their constructions emerged from a combination of iron components with brick and wooden elements.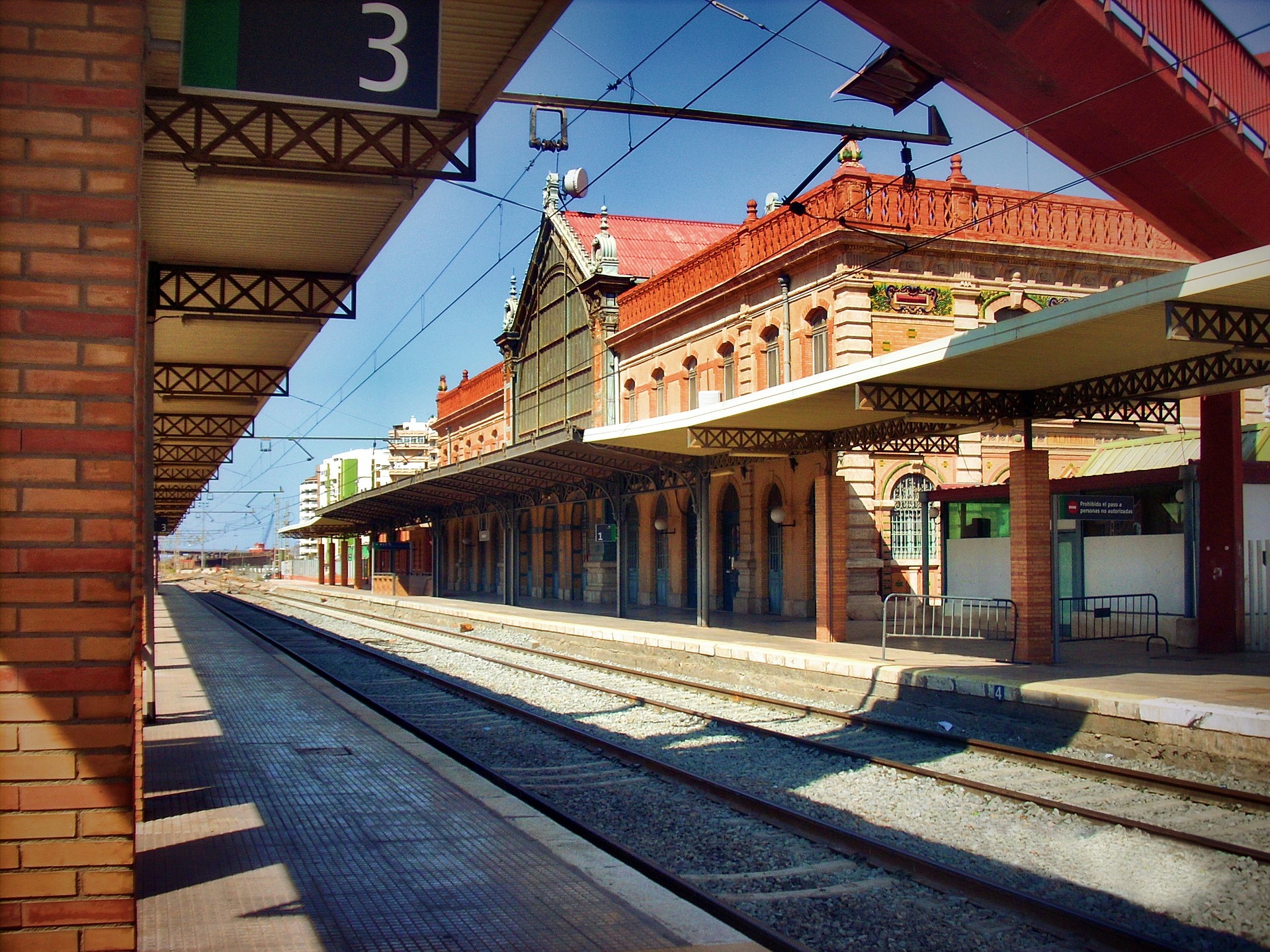 Surprisingly, the region was revived in the twentieth century thanks to its desert climate. The local farmers have started mass cultivation of greenhouse foods. Multiple film crews came to the desert to film the so-called spaghetti westerns. Even today, in solar parks, they are working on extracting fresh water from seawater. There are also works concerned with finding the most optimal method of obtaining solar energy. All of that made Almeria one of the richest regions of Andalusia.
The city alone is not a well-known or popular holiday destination, but I advise you to go there and explore it. It abounds with various attractions and beautiful architecture, including the Cathedral mentioned above, John Lennon Monument, and museums, including Museo de Almeria – a small place offering an extraordinary collection presenting the region's history and the city.
Crisscrossing narrow streets with a rich offer of tapas bars, hotels and shops resemble other Andalusian cities. However, there is something magical in it, and knowing the place's history makes it easier to feel its unique atmosphere. The local university lures young people to the city who manage the nightlife.
You absolutely should visit Mercado Central to try a few of its delicacies, including wine, olives, Spanish ham, cheese, fresh fish and seafood.
Flamenco
… it is an obligatory holiday agendum. You must visit one of the flamenco culture centers to feel the crazy and hot rhythm.
Perfect places to contemplate artistic performances are: El Morato Flamenco Centre and El Taranto Flamenco Centre.
Places worth visiting
Centro de Interpretaction Puerta de Almeria (Muralla Califal) – a museum of archaeology
Plaza de la Constitution – the oldest plaza in the city.
For good measure…
Those of you who enjoy martial subjects should visit Museo Refugio de la Guerra Civil – you will learn there about the history of the Spanish Civil War which took place in this area.
In the souvenir store, do not forget to buy a keepsake for "luck" with Indalo – a symbol of Almeria. After the shopping spree, go to the coastal promenade, where you will be able to relax in a chiringuito.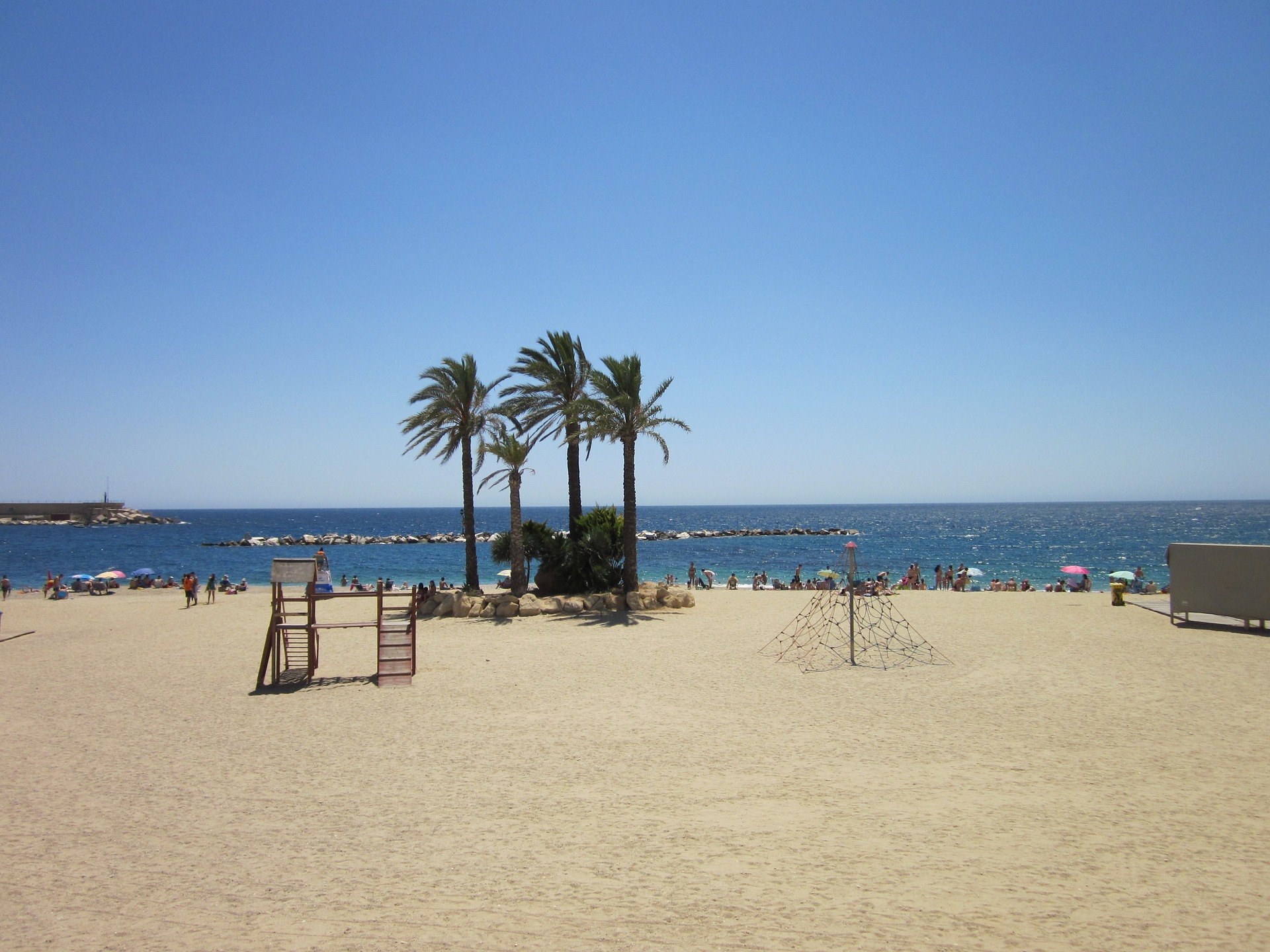 The territory of Almeria is an exhilarating touristic attraction due to Cabo de Gata-NIjar park situated almost 30 km away from Almeria. It is the largest ( 450 square km area) land-sea nature reserve in Western Europe. The park is home to about 1100 animal species, a majority of which are birds, including flamingos, herons, cranes, ospreys, peregrine falcons, and eagles. Because of its advantages, resources and multiple bird nests, in 1997, Cabo de Gata was named a biosphere reserve by the UNESCO. You simply have to see this place!
How to become a cowboy?

It is simple – all you need to do is to go to MiniHollywood on Tabernas desert – the only natural desert in Europe. It is worth mentioning that the closeness to the desert is the reason why the climate in Almeria is so dry and hot. Tabernas is one of the warmest places in Spain – with a temperature reaching 45 degrees!
If you think that movies such as A Fistful of Dollars, For a Few Dollars More, The Good, the Bad and the Ugly, Indiana Jones and the Last Crusade and hundreds of other spaghetti westerns were filmed in Arizona, you are mistaken. Almeria desert looks exactly like Arizona wilderness. Thanks to MiniHollywood complex, you can set out for a real journey to the Wild West.
The town was created in 1966 as a project belonging to Carlo Simi – Sergio Leone's colleague and an architect – to make the movie For a Few Dollars More starring Clint Eastwood. Hundreds of Hollywood stars left their mark in the town, including Clint Eastwood, Brigitte Bardot, Anthony Quinn, Claudia Cardinale, Alain Delon, Sean Connery, Raquel Welch, Orson Wells, and many others.
Correctly, there are three areas available to the ones willing to play sheriffs and cowboys:
Oasys Theme Park – offers attractions to the whole family; there is a zoo, a swimming pool, etc.
Fort Bravo – built for The Good, the Bad and the Ugly – it is well-preserved and allows you to visit a saloon, a bank and a prison looking exactly like on the Wild West.
Western Leone – it continues to serve as a movie set. The whole place provides enjoyment for the whole family!
When you explore the monotonous and enthralling at the same time landscape of Tabernas, you should go to Las Eras Antonio Gazques restaurant and try their delicacies.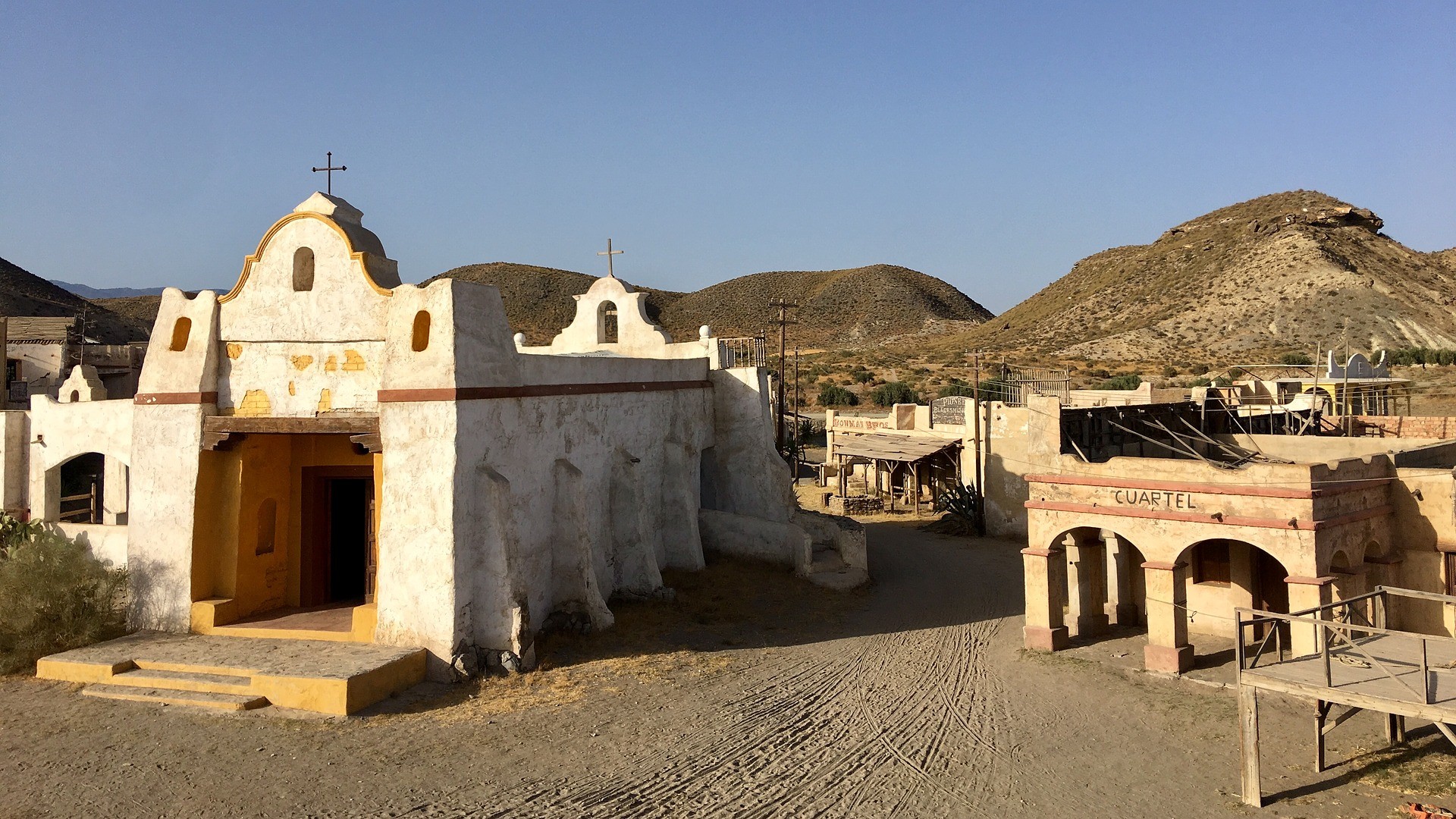 Fun facts about the region
La Alcazaba walls and other places in Almeria have often been used as movie background. They could be seen on the frames of such productions as:
Indiana Jones and the Last Crusade
Strawberry Fields Forever song was composed by John Lennon during his stay in Almeria. As a memento, there is a monument of the artist situated in the city centre
A fun historical fact is that in 1880, two archaeologists from Belgium found the oldest settlement in Europe (from the Copper Age) located right next to the city
Almeria province is called the Garden of Europe. It is one of the world largest sheltered agricultural croplands. Folic tunnels expand over the horizon. They can be found not only of the outskirts of the city but also across the whole province.
Interesting towns near Almeria
Roquetas del Mar – one of the largest holiday resorts
Almerimar – a paradise for water sports. It is famous for offering cheap rental of houses situated by the sea and a nice-looking marina.
San Jose – a seaside resort with a very pleasant atmosphere
Nijar – Andalusian town with charming beaches
Mojacar –a very lively place, especially during fiestas; known for Indalo worship (see the article below)
Los Velez – situated in mountains. You should come and see the old castle.
For cave and geology lovers
Almeria province has a lot to offer in this field. If you are a cave-explorer and enjoy geology, you should visit some of the places described below.
Salt Travertines – desert salt sediments
Gypsum Karst caves of Sorba – an attraction for spelunkers CLICK ON THE LINK to learn more
Rodalquilar (Cabo de Gata Natural Park) – old abandoned mines; a view known from, i.e. Indiana Jones and the Last Crusade
Letreros Caves (Santa Maria sanctuary – Los Velez) – you can see there cave paintings from the Neolithic Age – they are on the World Heritage List.
Cerro del Hoyazo – a small volcano near Nijar.


Places for wildlife lovers
Almeria is a paradise for bird lovers – more information about where to go to watch them can be found HERE
Tabernas desert
Natural Park Sierra Maria-Los Velez
Natural Park Cabo de Gata-Nijar
Sierra de los Filabres – an interesting mountain range
Sierra Alhamilla – a treat for scavengers
The most beautiful beaches in Almeria province
There are many of those. The one especially recommended is Playa de los Muertos near Carboneras. Other beaches worth mentioning are:
Serena Beach (Roquetas de Mar)
Monsul Beach (San Jose)
El Playazo (Rodalquilar)
Cala de Enmedio (Agua Amarga)
Playa de Aguadulce (Aguadulce)
Paseo de Almeria (Almería)
Playa de los Genoveses, Playa San Miguel (Cabo de Gata)

The official website of the city CLICK HERE
How to get there?
Almeria has its own airport. You can also, first, go to Malaga and from there:
rent a car
take a bus – the travel may take up to 5 hours depending on the route. The advantage of the bus is that it stops in small towns on its way to Almeria, so you can enjoy the view from the window. Remember to take lots of water with yourself!
Book your train, bus or flight ticket, and discover Andalusia!
A map presenting the most interesting places in Almeria
Un Saludo:)!
Back
---
Related articles