ARTYKUŁ W JĘZYKU POLSKIM
Malaga may be not a city with a panache comparable to Barcelona, Madrid, Vienna and other metropolises, but, for sure, it has its own unique charm. It is very difficult to describe Malaga, but I will try my best ;) It is charming, friendly, artistic and creative, delicious, loud and colourful, sometimes dirty – especially after Feria de Malaga, the greatest public holiday of Malaga. It pulses with artistic events, local music bands performance, plays, flamenco performances, and exhibitions. It offers amazing delicacies in tapas bars and hot beaches with loud chiringuitos. You will not get bored there. And if you do not have any specific plans, it is best to start walking through narrow streets, abundant in various services and stores – you can always spot there something or somebody interesting.
There are wealthy districts with beautiful villas like El Limonar, full of the artistic spirit and murals like Soho and Lagunillas – called the true Soho. Everyone will find there something nice for themselves.

Because if its location, Malaga is a unique city – on the side, there are mountains, on the other, there is the coast, and in between, there is the heart of Costa del Sol. In guidebooks, you will often find information saying that the sun shines here 300 days a year. Indeed, the weather is dreamy all year long, but there are weeks when it simply rains… yes, there is RAIN. I highlight it because my friends often ask whether we use umbrellas at all :) It rains a lot during early spring, autumn and winter, ducking parking lots and streets.
A bit of history
The history of Malaga has started over 2800 years ago, which makes it one of the oldest cities in Europe. It was founded by Phoenicians, who settled in the area around the ninth century BC and called the settlement Malaka. At that time, the Iberian Peninsula was being colonized by the Greeks, who, after losing the Second Punic War in 202 BC, were pressured to give southern territories of the Iberian Peninsula to the Romans. That is the moment when the glory days of the contemporary Malacitanium started. It became an important culture and trade centre situated on Via Hercules and Via August tracks – the latter connects Cadiz with Barcelona and then, with Roma. At that time, Teatro Romano came into being and it is considered to be the oldest monument of the kind in Spain. It has once again seen the light of the day in 1951, because during the construction of Alcazar, it served as a base for building materials and nobody has paid any attention to the bright history of the construction for centuries. Its ruins can be spotted right next to the impressive ruins of La Alcazaba – a Roman fortress, which was later, in the ninth century, rebuilt by the Moors 9inside, there is a small museum). At the lower area, near it, there is an entrance to the palace complex, and on the higher area, there is an entrance to the Castillo de Gibralfaro castle which was built in the fourteenth century on the top of a hill. Impressive fortification walls surrounding the whole complex, create the unique landscape of Malaga. From the top, there is an impressive panorama of the second largest metropolis (the first is Seville) in Andalusia.
I recommended to climb to the top, even on a hot day, and reach Mirador de Giblarfaro, from which you can see the amazing view of Malaga, the bullpen, the harbour, the centre, the cathedral – a perfect place to take pictures (especially after the sunset). You can also reach the top though Calle Mundo Nuevo – it is more-time consuming, but walking through the park will make you able to see other districts of Malaga. However, if you are pressed for time, use the strains (go through Paseo Don Juan Temboury to Subida Coracha).
Tourists usually visit the old city – rightly so. New subdivisions do not offer anything interesting. You can see nice murals, well-tended parks, malls, and other services, but those are not the places worth special attention. There are also districts, as in every large city, which are – needless to say – unkempt and are not liked by other inhabitants, i.e. La Palma Palmilla.
As you take a walk through the city, you will immediately notice that there are many churches: Iglesia San Juan Bantista, Iglesia del Santo Cristo de la Salud, Iglesia de los Martires, Santuario de Nuestra Senora de la Victoria – those are only a few examples from the long list. In the central part of the old city, there is a real queen – Nuestra Senora de la Encarnacion – the Cathedral of Malaga. It was being built for about 250 years (1528 – 1783) in gothic, renaissance and baroque styles. Finally, in 1783, the works were suspended and the construction of the second tower was left unfinished. Because of the unique 'stump' , the people of Malaga banteringly call it La Manquita – The One-Armed Lady.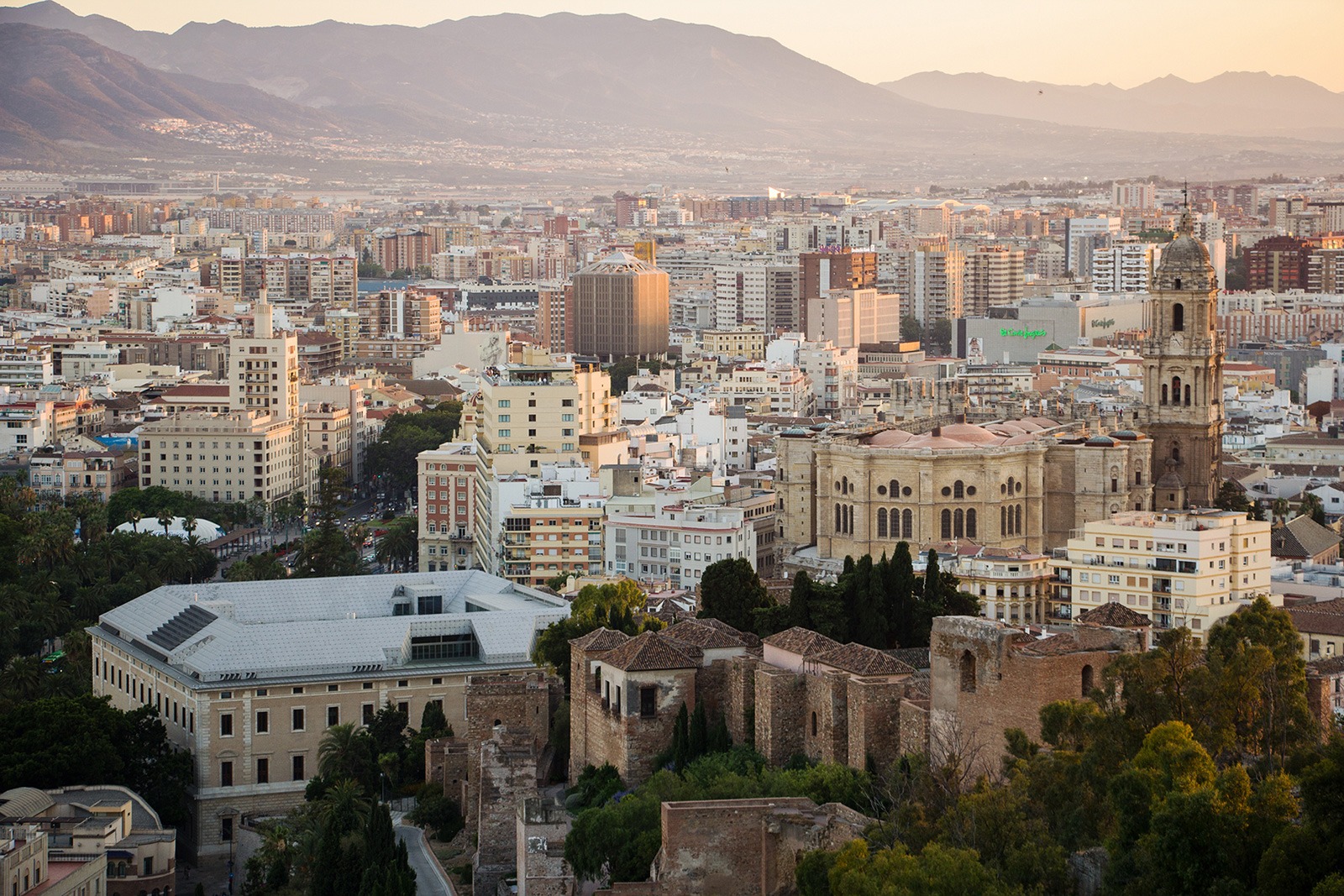 Opposite the front gate, there is Plaza del Obispo with an impressive building called Palacio Episcopal. You can rest there and enjoy the view of the cathedral while eating tapas. If you turn into Calle Santa Maria behind the cathedral, and then turn left into Calle San Augustin, you will reach one of the largest cultural attractions in the city – Museum of Picasso. The tourists often mistake the museum with the house, in which Picasso was born. The house is located near the Plaza de la Merced and it is called Museo Casa Natal de Picasso. There, Pablo Picasso – one of the greatest artists of the twentieth century – was born (on 25 October 1881) and spent the first year of his life. At the square, you can take a photo posing next to the monument of the artist, which is situated in front of the obelisk dedicated to Jose Maria de Torrijos. He was a leader of the rebellion against the absolutism of king Ferdinand VII. In a crypt under the monolith, the remains of the leader and his 47 followers rest. In December 1831, they were all executed by a firing squad on a beach in Malaga.
If you leave the Museum of Picasso and go towards the ruins of amphitheatre, you should stop by El Pimpi bar. It offers amazing Spanish atmosphere, tapas and the local wine.
You can reach the harbour, if you go from the city centre through Paseo Parque (a good place to take a break – a green belt with beautiful flowers and exotic plants). Usually, on Sundays, there is a market offering hand-made stuff and, generally, it is very lively. Sometimes, large cruise liners and battle ships come to the harbour, since it serves as a navy base. On the coast line, there are shops, restaurants, playgrounds for children, and the charming La Farola de Malaga lighthouse with over 200 years of history. On the beach, every once in a while, people gather around chiringuitos – bars offering food and drinks.
Do not forget the siesta!
Eat when you see the Spanish feast – around 3 PM, the restaurants become empty and fill again around 7 – 8 PM. From the big wheel at the harbour, you can go through the main walkway of Malaga – Calle Marques de Larios to Plaza de la Constitucion, the largest square of the old city and drink some coffee in one of the oldest cafes is the city – Café Central. It is situated near the crossing of the the main trade street, Calle Larios, and Plaza de la Constitucion de Malaga. They offer a great variety of coffee kinds – so El malagueno no pide un café con leche. "Pide un mitad o un mitad doble". To learn what the words mean, read azujelos (see – the dictionary) listing what the café has to offer.
You can spend hours walking through the streets of Malaga. You can visit stores, galleries, cafes, tapaseries. Near the city centre, there is Mercado Central Atarazanas – you absolutely have to try the various types of olives. You can eat something here, buy high-quality local products, drink the famous sweet wine of Malaga (not too much – it is very potent :)) or even dare to try an oyster served with champagne…
The city seems to be especially crowded and lour during evenings. If you decide to visit a tapas bar, book a place early, because getting into the well-reviewed places, i.e. those recommended on tourist websites, may be impossible… If you want to push through a loud crowd and shout at the waiter, it may be a great opportunity – here, you need to express your expectations LOUDLY :) (the Spanish tend to behave just like that – get used to someone screaming behind you – Cervesa y una ensaladilla rusa parfa!!!!:) However, if you want to peacefully browse the menu and sit down, come around 9 PM, because around 10 – 11 PM, especially during weekends, there are crowds everywhere.
Malaguenos start their sessions after 9 PM. Concerts usually start at 10:30 PM or at midnight. The nightlife lasts until the daybreak.
The city is also connected to Antonio Banderas. The actor visits his family town during various cultural events.
There are other entries offering more information about Malaga – see the related posts!
What interesting to eat in Malaga
There is a lot to choose from because Malaga, just like other Spanish cities, offers delicious Mediterranean cuisine. The restaurants serve regional dished and standing-out in Spanish menu.
El pescaito frito – a very popular dish in Andalusia. It consists of local fish and squids coated in breadcrumbs and deep-fried

Las migas – hard breadcrumbs dipped in tomato sauce with addition of garlic, olive oil, radish and olives

El ajoblanco – a cold soup made from almonds, garlic, vinegar, olive oil, water and grapes

Almejas a la malaguena – mussels in a pickle with onions, garlic, parsley – sometimes cooked in white wine

Berza malaguena – a mix of pork, sausage (sometimes), cabbage, peas, white beans in tomato and pepper sauce

Ensalada malaguena – it is a representative of the region. It can be often spotted in tapas bars. It consists of potatoes, olive oil, codfish and oranges
Those are only the few examples of local cuisine. The representatives of Andalusian and Spanish cuisine are the sweet churros dipped in hot chocolate. They taste a bit like donuts – they are sweet, greasy and yummy :) Forget about calories. There may be a lot of them here, but you will burn them while exploring the city. Casa Aranda, situated in the centre of Malaga, offers the best churros. They are open from 8 AM to 1 PM… siesta… and from 5 PM to 9 PM.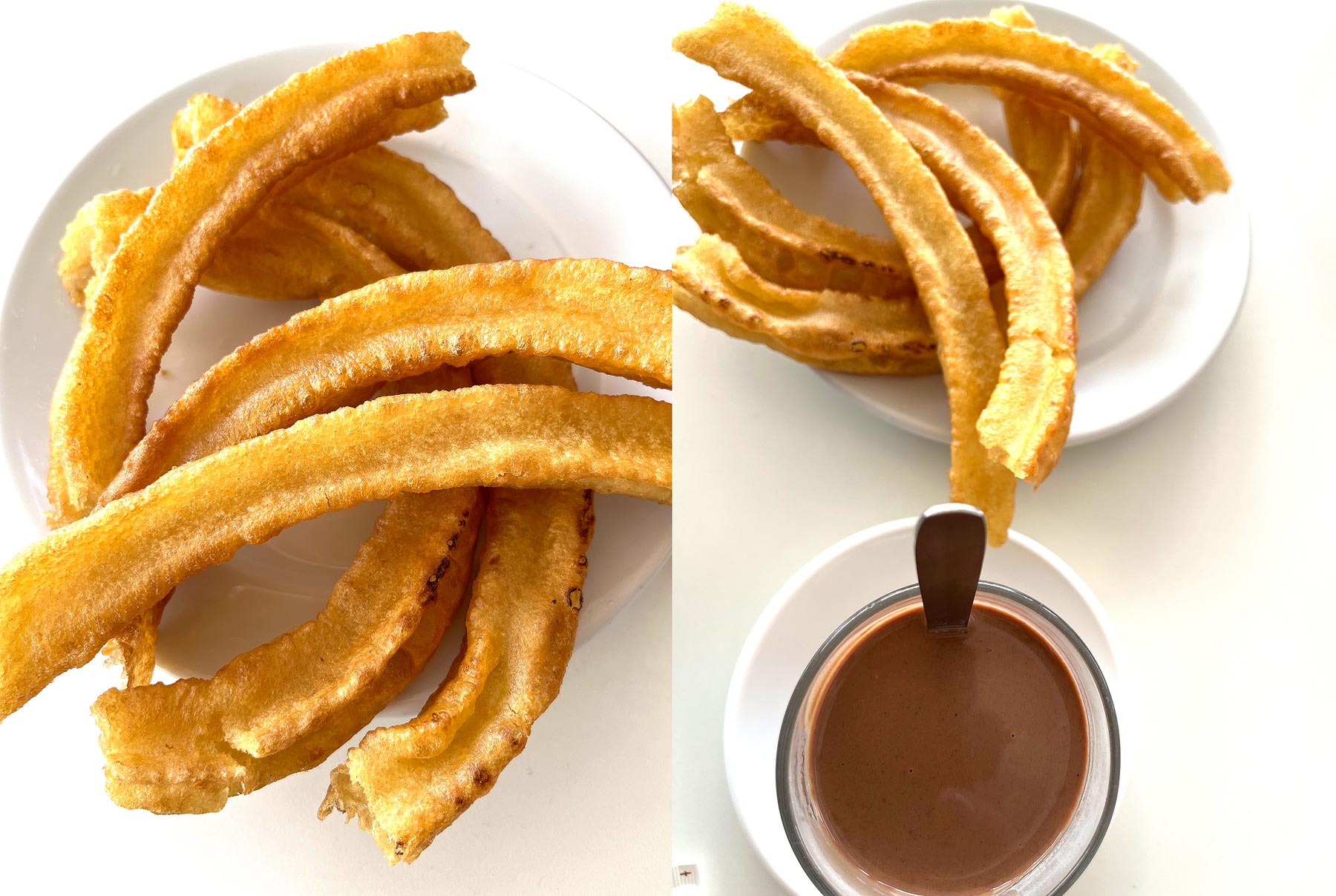 Among popular dishes often served in restaurants, you will find Spanish paella (read: pa-eh-ya) and gazpacho – a cold soup (read: gaz-pa-chi-yo).
If you are visiting Malaga, you should try the wine – Malaga (Malaga-flavoured ice-cream cannot Antigua Casa de Guardia be skipped, too…). You should go to, which is situated near the most important street of the city –. You go to the bar, order the wine, the waiter notes down everything on the counter with a piece Alameda Principal of chalk, and… serves a glass of the alcohol poured directly from the oak barrel – I really recommend it! They also serve tapas.
Tapas in Malaga
The offer is vast. There are multiple bars. We keep finding new places all the time, so the list will surely grow longer: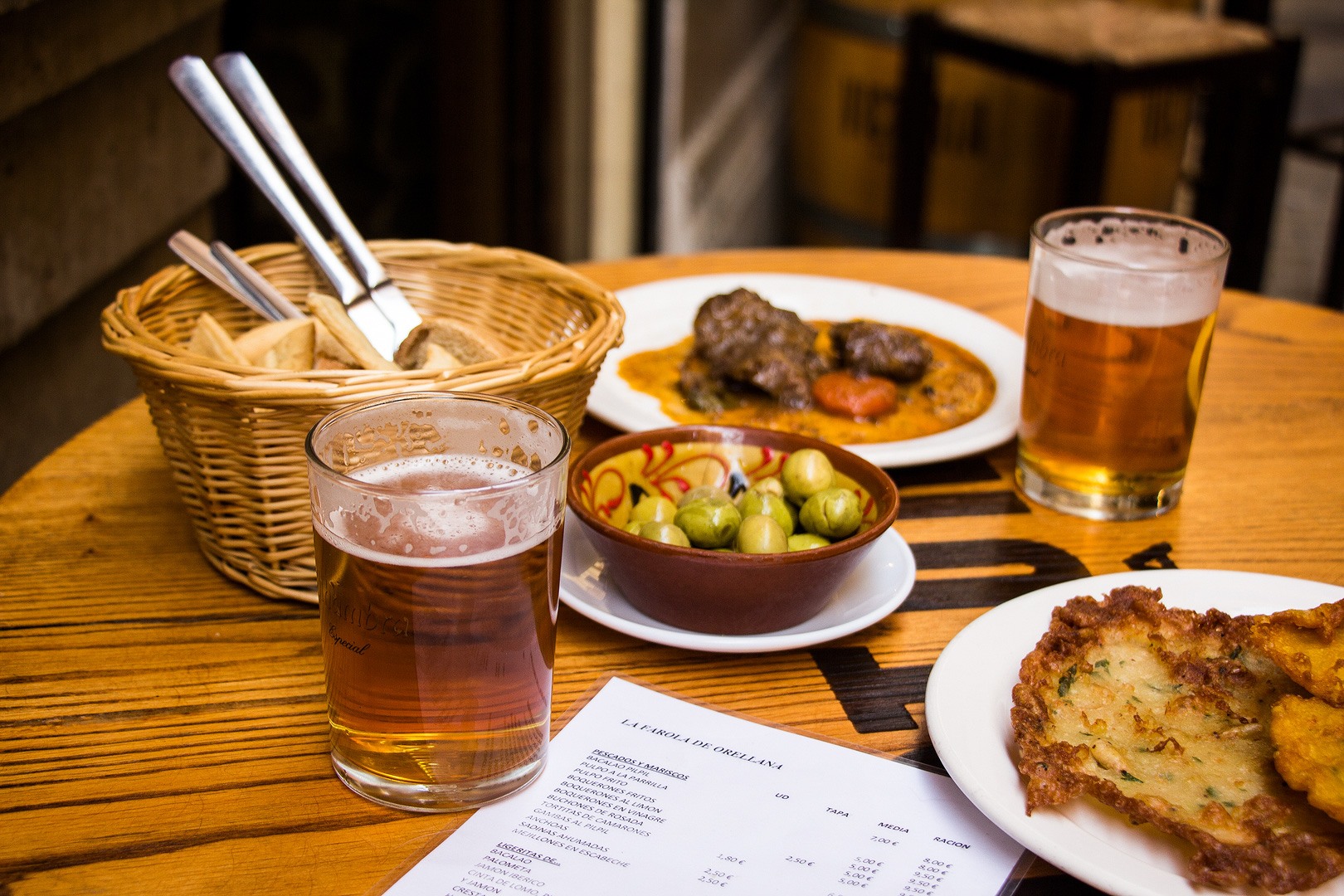 La Taberna del Pintxo – they often serve new types of tapas – usually as small canapes.
KGB – good tapas in cool style
Orellana Bar – very tasty
Casa Lola – varied and delicious
El Tapeo de Cervantes – a recommendable place
El Pimpi – a typical Spanish bar with gentle décor
Los Gatos – they serve delicious beer, the food is great, too
Chiringuito Tropicana – chiringuito na paseo maritimo
La Campana Playa - chiringuito na paseo maritime
Taberna Trillo
Cortijo de Pepe
Taberna Uvedoble
Refectorium Catedral
Terraces may serve as good places to take a break and enjoy the view. There are a few terraces in the city:
Piscina Lounge, Hotel Molina Lario
Terraza de la Alcazaba, Alcazaba Premium Hostel
Chinitas Lounge, Chinitas Urban Hostel
Terraza Áurea, Salles Hotel
La Terraza de San Juan, Premium Hotel
La Terraza de Larios, Room Mate Larios
Oasis Lounge Bar, Oasis Backpackers Hostel
Terraza Room Mate Valeria
Culture in Malaga
CAC Malaga, Centro de Arte Contemporaneo – a gallery of modern art. The exhibitions are free to look at. It is a good place to visit, if you enjoy such attractions.

Centre Pompidou Malaga – an art gallery situated at the harbour. Another place for people who enjoy modern art.

Picasso Museum
Museo Interactivo de la Musica – an interactive museum of music. Offers a lot of fun. You can try playing various instruments.
Museo Carmen Thyssen – amazing collections and art exhibits.
There are many interesting places there: a museum of cars, crystals, wine, imagination > LINK – something nice for everyone. Small galleries, jazz clubs, hipster bars, cafes, art houses, bars, which offer an opportunity to stamp your feet while listening to flamenco, theatres, meeting spots of local artists, i.e. here LA POLIVALENTE.



How to get there?
The Malaga airport is one of Spain largest airports. The fastest way to get to the centre is by train (after you pick your luggage, follow the arrows to the station, which is situated in front of the main entrance). You can buy a ticket using the machine placed next to the platform entrance.
You can get there by taxi, as well, but it is quite expensive. UBER may be a good alternative.
The city offers good public transport. The website CLICK THE LINK presents the addresses of companies in Malaga: timetables, stops and a lot of useful information. I advise against renting bicycles, if you are only interested in exploring the crowded old city.
Book your train, bus or flight ticket, and discover Andalusia!
Finding parking space may be a challenge, if you are not familiar with the city. Almost always, you will need to pay the parking fee. You may find useful the app showing the nearest parking lots in Malaga:
Additionally, there are two tube lines you can use to travel through Malaga (the third one is currently being built, so there may be some difficulties when traveling through the city centre, especially near El Corte Ingles). The fees and the timetable CLICK HERE.
Please take a look at the map I prepared for you. I tried to mark the most interesting attractions of Malaga.
Un Saludo:)!
Back
---
Related articles