ARTYKUŁ W JĘZYKU POLSKIM
Marbella, located on the sunny Costa del Sol coast in Andalusia, is one of the most exclusive and charming cities in Spain. With an interesting history, beautiful beaches, historic landmarks, and delicious cuisine, it attracts hundreds of thousands of tourists every year, including many sports stars, politicians, and TV and film celebrities.
Here, many famous personalities have or have had their properties, such as Julio Iglesias, Antonio Banderas, George Clooney, Prince, Sean Connery, Novak Djokovic, Arab sheiks, and Vladimir Putin, who once invested in building a modern villa in the hills of La Zagaleta, among many other celebrities.
In this post, I will introduce the main attractions and surroundings worth seeing in Marbella.
A pinch of history
Marbella has a rich history dating back to the Paleolithic era, but the biggest impact on these lands was made by the Romans, and later the Moors, who ruled these lands in the Middle Ages. Finally, the city was conquered by Christian Spain in 1485, and the symbolic handing over of the key to the city gates took place under the cross, which is now kept in Cruz del Humilladero - a small sanctuary in Malaga.
In the 19th century, Marbella became the national capital of iron and steel smelting, thanks to the use of the first large furnaces in Spain, which resulted in numbers, as much as 75% of the iron smelted in the country came from Marbella and its surroundings. The iron and steel industry eventually collapsed due to competition from regions in the north of the country, which forced the region to find itself in agriculture, and eventually, with success, sugar cane, and sugar beet were grown and exported on a large scale.
Just before and after the Spanish Civil War, Marbella experienced an economic downturn, which was saved by the implementation of a risky, even visionary idea of turning it into a resort.
Intensive work began in the 1940s when the Salamancan aristocrat Ricardo Soriano, 2nd Marquis of Ivanrey, founded Venta y Albergues del Rodeo - the first hotel complex that was to set the style and direction of the city's tourism development. Soriano copied the American bungalow and then adapted it to the Spanish landscape, which finally gave the property a more rustic look. He was the first promoter of the Costa del Sol as an excellent place for luxury leisure.

The charm of Marbella attracted artists of the time, such as Edgar Neville, Conchita Montes, and Antonio "El Bailarín", who chose this idyllic place, with sandy beaches and the panorama of La Concha, as the ideal place to rest and meet other significant artists of the era. Today, Marbella's main street is named after Ricardo Soriano.
The development of the tourism mecca was pushing for further expansion, investments were to attract more wealthy people and tourists. In the 1960s, Don José Banús invested in the development of the coastline, and so in 1970, Puerto Banús was opened and became one of the largest and most luxurious marinas in Europe.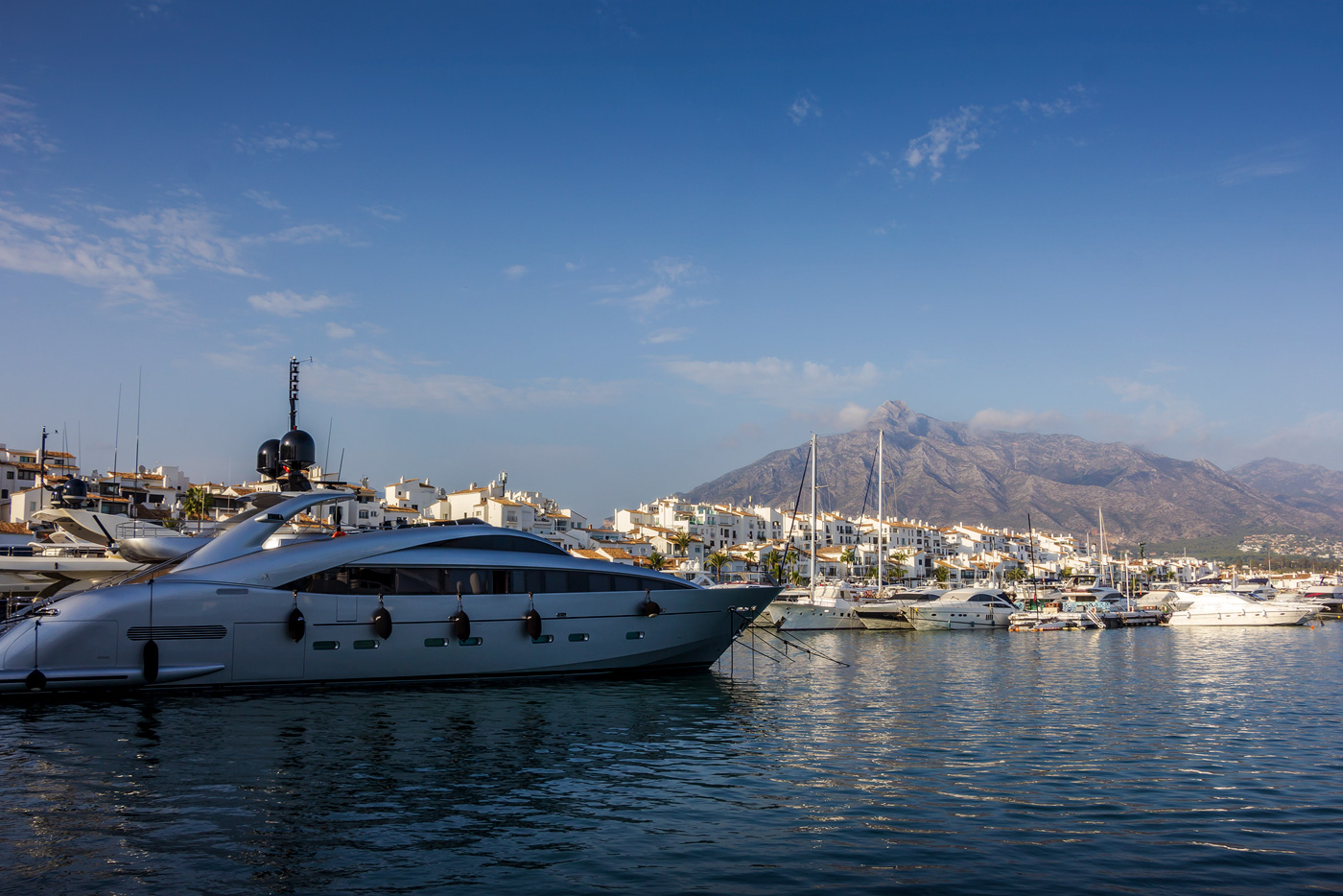 In the 1980s, Arabs began investing heavily in the city and its surroundings. At that time, Saudi King Fahd built an impressive palace in the city, which is served by a 300-person staff. Then the first mosque in Spain since the Reconquista and Arab banks were established. Marbella, as a luxury brand, is still recognized as a mecca for billionaires, businessmen, and world-famous artists, giving it a party and international character.
Sightseeing
In Marbella, we can find many monuments and buildings that reflect the cultural diversity of Andalusia. Great souvenirs from the city's history are the ruins of the Las Bóvedas baths in San Pedro Alcantara and the early Christian basilica of Vega del Mar, located nearby.


When you're in the area, it's worth seeing:
Old Town (Casco Antiguo) - Narrow, white streets, charming squares, and ever-blooming flowers make Marbella's Old Town the perfect place for a stroll. It's worth seeing the Plaza de los Naranjas, where you can find a 16th-century town hall and the Church of Saint Mary from the 16th century.


Beaches and nature
We cannot talk about Marbella without mentioning its beautiful 27 km coastline, which boasts many stunning beaches.

In my opinion, the top 10 beaches in Marbella are:
Cabopino Beach
Playa del Alicate
Bounty Beach
Playa Nagüeles
Playa de Puerto Banus
Playa de la Vibora
Playa Real de Zaragoza
Playa de la Fontanilla
Playa Hermosa
Playa de Artola
You can read more about Cabopino beach HERE because it's a beautiful place that deserves a separate description. There is a wooden walkway where you can comfortably walk among the pine trees along the coastline.
Mountains
Marbella's panorama is uniquely characteristic. The city is dominated by La Concha, a mountain that is not at all easy to climb, the routes are long and steep in some parts. Once upon a time, I was able to sit on a bench, famous among Andalusian mountaineers. Click HERE to see the video from hiking.
In addition, Marbella is a great place for snorkeling and a base for trips to other charming places in Andalusia, such as Istan or one of my favorite white towns, Ojen (Read more here > Ojen & Istan).

Getting there
When it comes to getting to Marbella, you can use the options suggested on the right-hand side of the screen. There is a form where you can search for connections, and the transportation options listed in THIS article can also be helpful for traveling around Andalusia.
------
If someone enjoys glamour, parties, expensive cars, yachts, expensive and very expensive restaurants, and likes to stroll around the windows of luxury shops in Puerto Banus, they will surely find something for themselves here. Personally, I prefer more "local" vibes. The Old Town is charming, and the nature around is beautiful, but for me, Puerto Banus is a bit tacky compared to other European marinas. The beaches are indeed beautiful, and the further south from Malaga, the better they get.

It's worth visiting and seeing for yourself whether Marbella is really snobbery in its purest form or a quite pleasant place. For me, it's somewhere in between, depending on where and what you're looking for...


PS It would be great if you could follow the Facebook page, give a like here and there, and write something - it would be really appreciated. Thank you in advance ;) I'm off to explore another place on the map of Andalusia & Algarve...
Un Saludo:)!
Back
---
Related articles